Over the past many years, my healthcare clients have been hesitant at times to put forth a robustly branded campaign out of concern for alienating the promotional vendors who are responsible for implementing the branding guidelines when developing tactics.  To be more clear, the concern is that a well-branded tactic may "restrict the creativity" of the agency because the branding will "get in the way" of their concepts.  My usual response is: it's your brand and your branding; you've paid a lot of money for it, so it's your choice how you use it or not.  However, what I'm thinking is: if your agency does not embrace the reality that promotional concepts and branding are equal partners, then you should get another agency.
Imagine if tennis players complained that the "net" was cramping their ability to make any shot they wanted?  Not much sport in that, and not really worth watching.  The only people who would be having fun and taking pride would be the players.  The same holds true for promotion and branding: building the brand is the ability not only to make brilliant shots, but also to do so within the disciplined lines of the game.  Brands are built over time, so it is vital that each successive campaign continues to embrace the branding so that one agency's momentary glory at an awards show doesn't eclipse the real goal of brand dominance.
Below you will find what is considered to be the most successfully branded ad campaign in pharmaceutical history.  Each ad has won multiple industry awards, but more importantly, Rocephin became not only the leading hospital antibiotic, but also the leading hospital product.  It earned the nickname, Vitamin R.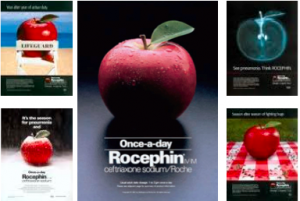 When I first arrived at Sudler & Hennessey in the late 80s, the center ad had already been created.  Throughout my tenure as Chief Creative Officer in the 90s, the challenge we all accepted was not to execute one-off ad campaigns year after year, but rather to outdo each other in developing the branding assets we had inherited.  Try this with any pharmaceutical ad today: cover over the logo (which usually occupies about 5% of the page in the lower right corner) and see if you can tell what the brand is.  With any promotional concept, if you cannot see and feel the branding without the logo, then the client has just flushed a lot of developmental money down the drain.
Oddly, this tension between branding and promotion is to be found most often in healthcare, where clients give promotional agencies an incredible amount of leeway in managing the branded assets they've spent months developing.  Consumer goods brands—especially iconic brands—have always practiced a great balance between branded assets and promotional ideas.  (Indeed, that's how they became iconic brands.)  See the ads below for Coca-Cola, which were produced by several different agencies over several decades.

The concepts are wonderful, and the branding didn't have to be sacrificed in the erroneous name of creative freedom.  Whether featuring the "wave" hallmark in ads one and three, or emphasizing the iconic bottle graphic, these promotional executions significantly advance the brand's equity while delivering the promotional messages.

Even this clever billboard series telegraphs the Coke identity from miles away on the road.  Can your agency do this?
Why do healthcare clients shy away from what consumer goods clients embrace with all their might?  Part of the reason is that healthcare brands need a lot of information to tell their story, so there is a concern that branding will crowd the space needed for messaging.  However, I will counter with the Rocephin example above, which had a very complex story to tell, as well as with this important consideration: do not view each campaign as an idea unto itself; view all promotional tactics on a macro level—as chapters in a brand story over the entire course of the brand's short life—and then you will see the true value of developing branding assets and using them over and over again.  The branded assets gain more and more meaning over time so that the mere appearance of them triggers a comprehensive story in customer's minds.  (When you see Clydesdales, you think Budweiser without a single word being uttered.)
Another reason for healthcare clients' reluctance is the way they are wired, and rightfully so.  The doctor's foundational principle is First Do No Harm.  Not surprisingly, that's the mindset of healthcare marketers as well.  Risk-aversion drives their decisions.  So when confronted with a promotional agency claiming that too much branding will risk ruining a campaign, the natural reflex of healthcare clients is to avoid this putative pitfall.
I cannot disagree with the risk-averse approach to healthcare marketing.  It is a fundamental practice of all the customers, so therefore it should be a fundamental practice of the marketers.  And I have produced or lead campaigns for over 30 years that respected this mindset while helping to make brands dominant.  But my advice to all prudent healthcare marketers is this: if you are going to pick a risk to avoid, then pick the one that most jeopardizes your brand over the long term and not just the next 12 months.  You are part of a long line of brand custodians.  Don't risk your reputation.  Give your future custodians what they deserve: a brand with an equity you helped to build, and one that will thrive and grow year after year.