What do medical marijuana, depression and epilepsy have to do with great design?  Graphic Design USA says it's Parry Branding Group (PBG).  At their first open call for design in the healthcare space–a much overlooked category–Graphic Design USA awarded PBG five top awards.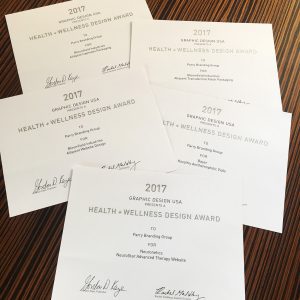 Three came for PBG's ground-breaking work in the field of medical marijuana, where the design firm helped launch one of the five approved medical marijuana brands in New York State.  Allayent–a brand PBG also named–stands for "allaying" the pain and suffering for the host of chronic, debilitating illnesses called out by the state. In 2015 we wrote about marijuana logos and the search for legitimacy as part of our effort to influence thinking about the industry and how to effective market medical marijuana.
"The goal in medical marijuana branding is to avoid the common mistakes that tend to trivialize or commoditize the category," says Tiphaine Guillemet, Chief Creative Officer of PBG. "The over-use of green (especially in the five-pointed leaf icons), silly names associated with more commercial marijuana brands, and the usual smash ups of medical and marijuana symbolism, such as the "green cross."  PBG members have worked with some of the most iconic healthcare brands in history, such as Lipitor, Botox and Colgate Total. The agency set out to treat Allayent like any other regulated healthcare brand, essentially putting a "doctor in the bottle" so to speak.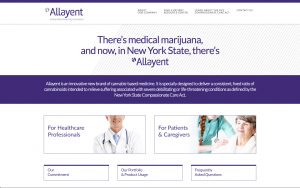 "When you look at the Allayent logo and overall design approach, you see and feel the values of authority, discretion and caring," says Vince Parry, PBG's President and Chief Branding Officer. "Those are values that directly reflect what patients are seeking from a doctor when they have cancer, AIDs, or any other chronic, debilitating illness." Healthcare branding is about imbuing a product or service with such ethical values.
In addition to the Allayent website, PBG won awards for packaging that is innovative yet elegant and restrained.  As more medical marijuana branding shows up in states that have legalized its sale, designers should look to this award-winning work to set the bar for making such a maligned and stigmatized substance elevate in status to that of a boon to humankind for relieving suffering.  Both Allayent capsules and transdermal patch designs won big.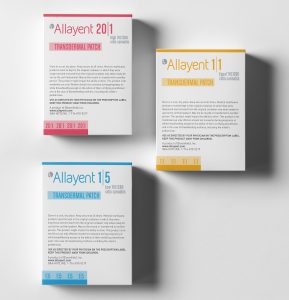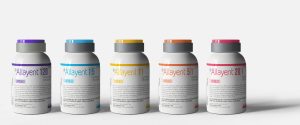 Also winning for another therapeutic breakthrough, PBG picked up an award for NeuroStar website design.  NeuroStar is a revolutionary, non-invasive therapy approved by the FDA for the treatment of Major Depressive Disorder.  In clinical studies–without medication–NeuroStar achieved improvement and remission rates far beyond conventional drug therapy.  NeuroStar works by using magnetic impulses targeted to centers of the brain that control mood.  PBG not only designed the website, but also rebranded the logo to reflect its growing status as one of the breakthrough treatments in mental illness today. The stunning results can be found at neurostar.com.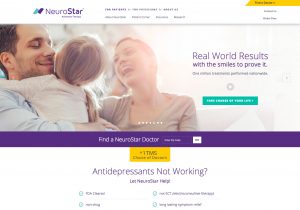 Rounding out the awards, PBG took home a GD USA prize for its packaging design for Kovaltry, a leading epilepsy therapy from Bayer.  
While the unique two-part holding shape secures the logo, the bright, multi-hued color palette is used to great effect to distinguish between doses, helping to ensure that the right dose is administered every time.
Parry Brand Group is proud to be among the first winners of Graphic Design USA's search for the best and  brightest in healthcare design.  Hopefully, other award shows will follow suit and lend a much-deserved recognition for designers working in this overlooked category.